Very early one morning, at the end of a two week 'Villa' holiday in Formentera - One of the Balearic Islands off the coast of Spain - We had to catch the ferry to Ibiza and our flight home to the UK.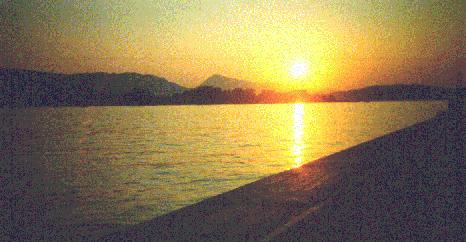 Dawn was breaking, as we sat on the harbour wall waiting for our ferry-boat to arrive. Out in the bay, a lone yacht lay at anchor with only her mast-head light visible. As the morning sun rose over the sea, the owner came on deck and stood for a while, just taking in the beauty of the moment.
I vowed, there and then, that one day, I would be a yachtsman waking up to a scene like that.
Twenty-eight years have passed since that day - Several jobs, various boats, and a family later, we are now in a position to achieve the dream ourselves. The family have grown up and are making their own way in life (one on more distant shores himself). I am very lucky to have a Wife, who fully supports the idea, indeed she is fast becoming my driving force on the planning side!
Never wishing to embark on any project, without suitable preparation and mindful of Tom Lehrer's famous line; "Plagiarise, let no-one else's work evade-your-eyes" I posted, on the UK Practical Boat Owners Forum a simple question "Selling up - Sailing away - any thoughts?"
Amazingly, many responses came rolling in:- From simple dreamers, who may never leave the dock-side:- To couples out there at sea, actually living the dream. The sample may be small, so far, but some common reasons are showing through:-
Age - Seems to be a major factor. Sometimes called the Meno-Porsche (when you are too old for a Renault Clio and too young to buy a Jaguar). Around the Mid-Forty crisis, I think?
Health - A couple of contributors have had to rethink their lives ( myself included ) after serious health problems. This is possibly the most stupid thing of all to do when ill - But, I would hate to die, wishing "Oh, If only I had done that"?
Wealth - It may simply come down to this. Early married life is a maelstrom of raising kids, buying houses, just keeping the bailiff from the door. Eventually, there comes a time when you can think about realising your dreams and actually have the finances to do so.
Disillusionment - One day I watched my Boss, being 'marched off the premises' - At one hours notice! The realisation finally dawned - No job is for life. All those extra hours of effort, Climbing up through business hierarchies, ever closer to that heart attack - What is it all for? Indeed the important thing to remember is that you 'Work for Life' and NOT Vice-Versa !
These same reasons have caused us both to rethink our priorities. I quit my job and took up contracting again and Urszula left her job of ten years, to start working free-lance. We have both been so much more relaxed since those decisions were made.
I feel that we have already gained new friends among those who have responded to my 'posting' via Email etc. It also became apparent there was a need for a clearing house of ideas for like-minded people. So, the WebSite - Kahawi - came about. Hopefully it will evolve in it's own right as a forum and ideas 'pool' for all to contribute and glean helpful advice.
Please feel free to contribute, a few lines in the Guest-Book log will do, or you could Email me with your thoughts, comments, even perhaps, your reasons why we should, or shouldn't go for it? As best as time permits, I will publish all valid contributions on this site - So it is over to you. Get those fingers working!